The Single Most Popular Reggae Chord Progression
The single most popular reggae chord progression is the 1st to the 2nd chord per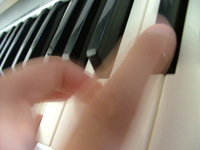 iod. So if you are in the key of C, the reggae chord progression would be C major to D minor. If you are in G, it would be G major to A minor and if you were in say F, it would be F major to G minor and so an.
There are about five reggae chord progressions in my mind that you can never go wrong with and they are the most popular reggae chord progressions – I will write about them in a coming article. Reggae chord progressions in any key, starting on the 1st to the 2nd just seems to capture that vibe no matter what kind of song is written using it. See videos below.
It works for Roots Reggae, Lovers Rock, Rocksteady, contemporary reggae and even Dancehall. I think the reason it's so effective and hence popular is because the chord progression easily captures a happy as well as a sad mood. This is largely due to the major and minor chord being used.
If you know anything about reggae chords you would know that a major chord illicit a happy feel and a minor chord do just the opposite. Again, it's only two chords and they are relatively easy to play, write to and compose melody around.
Singers like Sanchez, Singing Melody, Garnet Silk, Peter Tosh, Bob Marley, Jimmy Cliff, Burning Spear, Culture, Jah Cure, Sizzla, Capleton, Anthony B, Gentleman, Alton Ellis, Toots, Frankie Paul, Barrington Levy, Romain Virgo, Christopher Martin, Chronixx and Protoje have all used it. The truth is I could go on listing more artists but I think you got the point.
Below is the reggae chord progression in different keys. Strum each chord in the progression twice or three times, even four times if you like using a tempo of your choice. You don't have to strum each chord the same amount of times. You are allowed to mix it up.
So you could strum three times on the first chord and twice on the second chord. Similarly, you could start on the second if you wanted a more profound sound for Roots Reggae or if you are in a reflective mood for a love song especially if you got your heart broken.
The Most Popular reggae chord progression in different keys:
1. C major – D minor
2. D major – E minor
3. E major – Gb minor
4. F major – G minor
5. G major – A minor
6. A major – B minor
These are just a few of the chord progression combinations; remember that you can use sharps and flats as well. I will be putting up a video on YouTube very soon showing this so stay tuned for that. Now off you go, go make good music using the most popular reggae chord progression. Peace and love!